Thermoforming Success: How Spartech Helped Duo Form's Recreational Boating Offerings Take Shape
Thermoforming Success:
How Spartech Helped Duo Form's Recreational Boating Offerings Take Shape
---
A Duo Form success story for R104 Royalite®
With a strong history of making a world of difference in plastics solutions, Spartech is dedicated to developing results that are sustainable, diverse, reliable and bring innovation to real-world applications.
When Duo Form, a Michigan-based thermoformer and thermofitter specializing in the recreational vehicle and automotive industries wanted to strengthen its marine market offerings, they turned to Spartech to make it happen. Spartech's Royalite® R104 product met Duo Form's material specifications for a Misty Harbor's luxury pontoon boat dashboard which required a high-end, soft-touch and water-tight plastics formula. Here's how things took shape.
Duo Form Needed A Luxury Dashboard Plastics Solution That Would Hold Water.
Pleasure and pontoon boat sales have increased by over 33 percent in 2020 as compared to last year due to people seeking outdoor and socially distant activities during the COVID-19 pandemic. This situation has cast a greater spotlight on recreational marine manufacturers as they quickly push forward to meet this demand. Duo Form, a thermoformer with vast experience supplying plastics to vehicle manufacturers, had an opportunity to strengthen its ties to the marine industry by delivering a dashboard application solution for their client, Misty Harbor Boats, a leading manufacturer of luxury pontoon boats.
While Duo Form had experience thermoforming hard plastic materials for recreational vehicle interiors, this project required a higher-end, soft-touch solution that was aesthetically pleasing and would complement the appearance of a luxury pontoon dashboard. In addition, these plastic materials would need to be durable and water-resistant to maintain their shape, appearance and functionality when continually exposed to water and outdoor environments. Looking for reliable options and answers, Duo Form reached out to their long-term partner, Spartech, to begin the process and things began to formulate quickly.
---
The plastic materials Spartech provided are performing well and our client is very happy. It's nice to work with a partner that feels less like a supplier and more like a member of our team.'
- Mike Gonser, Vice President of Operations, Duo Form
---
Spartech Delivered A Unique Solution Based On Above-Board Innovation And Support.
Spartech Account Manager Brandon Laetz says in addition to a solid and successful working relationship, Duo Form contacted Spartech because they are one of the few plastics suppliers that could produce the right materials for the job. "This project required a specialized plastics formula that mimics the vinyl and leather textures you typically find on premium vehicle dashboards and interiors," says Brandon. "We needed to deliver a solution with a soft, 'spongy' feel that gives when you push on it, yet quickly bounces back and holds its shape and rigidity over years of use, especially in challenging, wet conditions.".
While this plastics formula was a long-standing offering for Spartech, the company worked with Duo Form to apply this solution in a new way for marine applications. "The challenge was helping Duo Form find a balance between developing a product that had corners and edges that were flexible and thin enough to form a dashboard, but thick enough to offer durable performance for the desired application," says Brandon. "Duo Form had access to a range of plastic consistencies and gauges to help make their job easier, more efficient – and profitable."
Duo Form Is Charting A Profitable Path Thanks To A Productive Spartech Partnership.
Duo Form Vice-President of Operations Mike Gonser says that Spartech was the right plastics solution provider for this project for a number of reasons. "We always know what to expect when we work with Spartech," says Mike. "Their proven supply chain is critical in helping us to meet tight deadlines and Brandon and the team's willingness to work with us every step of the way during the development process is a key factor in helping us develop winning solutions for Misty Harbor and our other clients."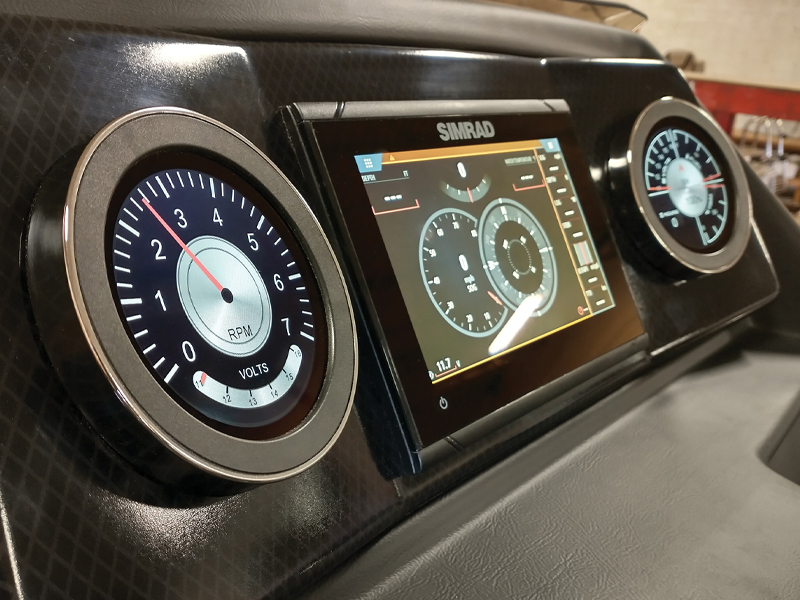 Mike indicates that, while the dashboard project is still being finalized, Misty Harbor has expressed their satisfaction with the process. "The plastic materials Spartech provided are performing well and our client is very happy," he says. "It's nice to work with a partner that feels less like a supplier and more like a member of our team." Mike adds that Brandon is the perfect representation of how Spartech delivers innovation and quality. "He and his team have really taken the time to understand our business and our goals. We couldn't ask for more than that," says Mike.
Dedicated To Shaping Your Success.
Spartech is proud to partner with thermoformers like Duo Form to provide expert support and consultation, innovative research and development, a robust, responsive supply chain and superior customer service to produce excellence, cost-efficient results. Tell us what you want to accomplish and let's discuss how we can make it happen. At Spartech, we're dedicated to shaping your success.
Benefits of the complete line of Royalite® products from Spartech.
Spartech's Royalite® line of flame retardant sheet offers comprehensive options for applications such as construction panels, equipment housing, transit interiors, and device enclosures. Royalite flame retardant sheets are suitable for fabrication and thermoforming technologies, and individual grades provide a tailored balance of properties including toughness, aesthetics, and weatherability for the application. We offer custom colors, sizes, gauges, surface finishes, and functionalities, such as static control and antimicrobial properties.
R104 Royalite® Documents
Keep Reading
---